Year / release date : 05/29/2019
Version : 4.5.1
Developer : PreSonus
Developer site : PreSonus
Digit capacity : 64bit
Interface language : Multilingual
Tabletka : present \ R2R
System requirements : Windows 7 x64 / x86 SP1 + platform update, Windows 8.1 x64 / x86
Intel Core 2 Duo or AMD® Athlon ™ X2 processor
(Intel Core i3 or AMD Athlon X4 or better recommended)
Microsoft Visual C ++ 2017 Redistributable Package (x64)
Mac OS X 10.8.5 or higher
Intel® Core ™ 2 Duo processor
(Intel Core i3 or better recommended)
Description : PreSonus announces the release of the fourth major upgrade to the Studio One sequencer.
To create sketches in PreSonus Studio One 4, the new Chord Track tool has appeared, where harmony is automatically recognized from audio or instrumental tracks and exported into a chord sequence for Harmonic Editing. The drum module Impact turned into Impact XT, with the addition of 20 new features, the Sample One Sampler turned into Sample One XT, now you can not only capture any sound, but also do anything with it.
The pattern sequencer is integrated with the rest of the tracks and instruments. Added AAF support for communicating with Pro Tools, Logic, Nuendo, Final Cut Pro, Premiere and others. Together with Celemony, the ARA 2.0 specification has been implemented, so that the adjustment in Melodyne takes into account the harmony of the musical composition. A complete list of several dozen innovations is available on the manufacturer's website. There are also numerous videos about Studio One 4 in the Media section.
The main feature of PreSonus Studio One 4 is the new Harmonic Editing feature that allows you to experiment with harmonies, tonalities and chord sequences. With the help of special chord tracks, the user can quickly and effectively change the chords and tonality of the composition based on the numerous options of the Chord Selector base, as well as create new arrangements. According to the developers, the combination of the Harmonic Edition, Arranger Track and Scratch Pads makes Studio One 4 much easier to work with arrangements and recording new ideas.
The built-in step sequencer has undergone processing. New patterns, instrumental parts and automation capabilities allow you to work more effectively with drum parts within the same track.
The Musical Editor has more advanced editing capabilities along with an improved and simplified interface. The developers have also added the Drum Editor to the program, which simplifies working with drum parts.
The Studio One 4 Artist and Studio One Professional editions also featured the Impact XT module, which turns the drum module Impact from previous versions into a full-fledged studio for creating bits and loops. Sample One XT sampler also received a number of improvements: now the module is not just a regular audio segment player, but an independent tool for creating new samples. Using ordinary drag and drop, users can quickly and easily share files between Sample One XT and Impact XT.
The fourth version also supports the AAF (Advanced Authoring Format) standard, which simplifies the transition to Studio One 4 from other DAWs. Thanks to AAF, the program can exchange information with Pro Tools, Logic Pro X, Final Cut Pro, Steinberg Nuendo, Adobe Premiere and other software for transferring and collaborating on projects.
Recording and Mixing
Redesigned hardware controls (gain / phase / 48V) on mixer channels (for compatible PreSonus interfaces)
Input Mixer: software gain / phase controls on every input
Software input gain / phase controls on every channel, bus and FX channel
Extended grouping system with attributes (Volume, Pan, Mute / Solo, Inserts / Sends)
Groups definable as Edit- and / or Mix-Groups
Commands / shortcuts to suspend any group
Command to suspend all groups
Support for unlimited nested groups (groups within groups)
Track List and Channel List
Group assignment and renaming options
Customizable Channel Components in Console
RMS / Peak metering option per channel
Global Pre-Fader Metering option
Quick-assign I / O routing for multiple selected channels
Quick-assign outputs in ascending order
Basic and Advanced Plug-in menu styles
Alternative (reverse) Sidechain routing
Copy Plug-ins with Sidechain routing
Arrangement and Editing
Lock Events (with position and editing options)
Lock tracks option
Independent Quantize / Timebase / Snap options
Snap to Zero Crossings
Musical (MIDI) Editing
Chord Audition option in Chord Selector
Chord track
User assignable Chord Audition sound
New Major / Minor Triad scales
Re-organized Musical Actions
menu
Stretch multiple notes by dragging
Note Action: Apply Scale
Note Action: Distribute Notes
Note Action: Randomize Notes
Note Action: Quantize Notes
Note Action: Mirror Notes
Note Action: Repeat Notes to Part End
Note Action: Thin out Notes
Note Action: Fill with Notes
Workflow
Independent Macro Toolbars for Arrangement, Music Editor and Audio Editor
Macro Toolbar: custom menus
Macro Toolbar: direct macro editing
Macro Toolbar: Duplicate Macro command
Macro Toolbar: "move to Group" command
Impact XT: drag more than 16 samples or slices
Patterns: support for Quintuplets / Septuplets resolution
Lanes resolution
Stem Export: quick drag> select tracks / channels
Stem Export: save selection when closing window
Song Data Import retains "Disabled" track state when importing
Fat Channel XT modules retain state when switching
Instrument list: "disable all" option
Instrument list: "remove unused" option
Store Presets with folder selection
Assignable F13-F24 keys
Recall any Marker with shortcut
One-step Audioloop export (drag & drop)
User interface
Smooth audio waveforms (option)
Macro Toolbar icons update
Sample One XT / Impact XT: improved unit readouts
Performance
Improved CPU performance with Multi Instruments
Improved CPU performance with Mai Tai, Sample One XT, Impact XT and Presence XT
Hardware and Installation
I / O Setup: add multiple inputs or outputs
I / O Setup: re-order inputs / outputs with drag & drop
New Plug-in Manager with filter
Plug-in Manager: list and reset blacklisted plug-ins individually
Import / Export
Import / Export I / O Setups
Video Export option with multiple codec support (platform-dependent)
MP3 Export with variable bitrate
AAC support (Import / Export), including ALAC (Apple Lossless)
Mono option for Export Mixdown
*

All launches of installations, Kidens, patchers are made on behalf of the administrator for any installation and activation.
Nowhere and no folders from where / where the installation will be carried out all the way, throughout the address, should not contain Cyrillistic signs.
Also, the computer name and account must be in Latin.
You must be an administrator on the system

.
The previous version is not necessary to delete.
After installing the program run.
Further: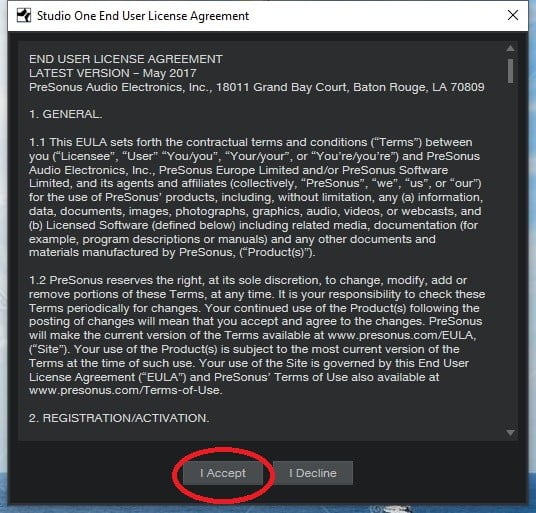 A window will appear that just needs to be closed: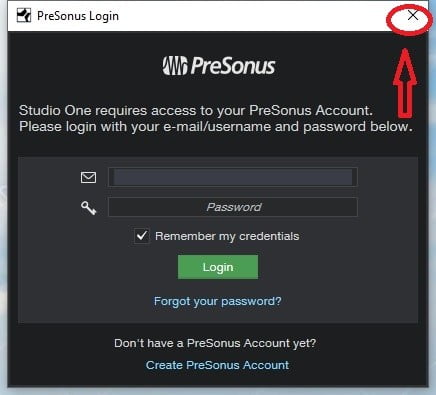 Another window will appear in which to select offline activation: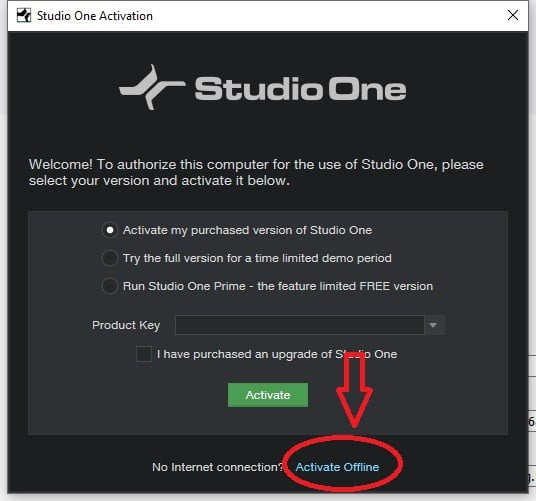 Copy

activation code
On behalf of the administrator, launch Kijen, insert the

Activation Code

in the

Machine ID

field, click on

Generate

and save the generated license files on the computer (for example, on the desktop).
Return to the program authorization window and download the license file called

Studio One 4 Professional

: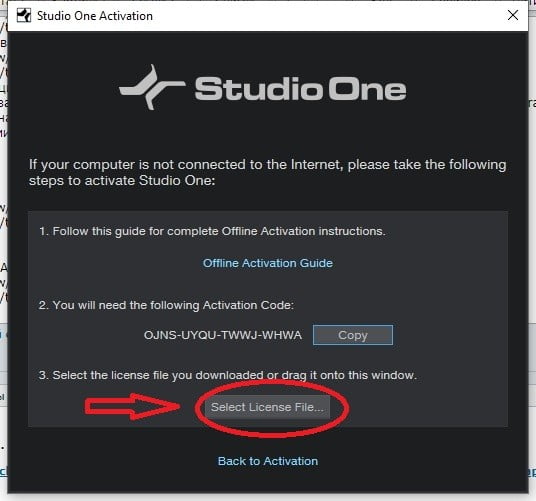 AND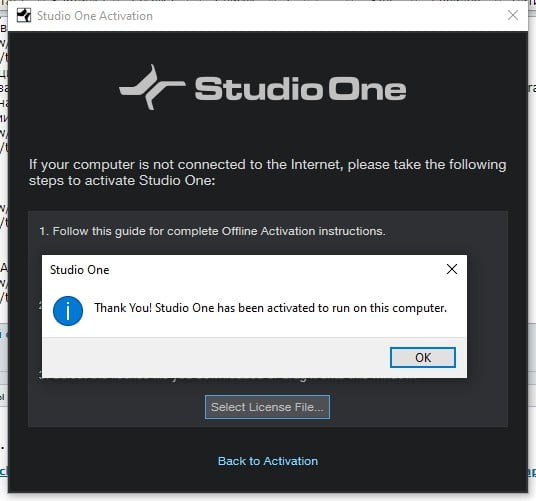 After that, all license files can be deleted.
It is advisable for the program to block access to the Internet (not only to its site) through a firewall.
Tip for mac OS users

: if you are not going to use the WIN emulator for other purposes than to run WIN from kijens, you can quickly, easily and conveniently do this using the KeyGen Runner for Mac program.
After installing it, send a shortcut to your desktop.
Now you can run any kijen for WIN simply by dragging it onto this shortcut.